*Mercari India has a different HR system and hiring process from Mercari Japan. You can check all the information about the Mercari India office here.
Hello India
This year, Mercari, Inc. will be establishing a Center of Excellence in Bengaluru, India—our first development base outside Japan and the US.
Since our founding, Mercari's product development has been driven by the skills and talent of many Indian engineers. With the opening of this new Center of Excellence in Bengaluru, we are looking to further expand our team.
Our team in India will leverage the vast technological capabilities and expertise that the country has to offer. Together, we aim to build high-quality products and services to strengthen Mercari's leadership position in the global market and achieve our mission to "create value in a global marketplace where anyone can buy & sell."
Why India?
We came to India not only because India is the world's leading technology hub, but also because we believe that Indian technology is a force for innovation.
The innovation of Mercari's services has been accompanied by a history of outstanding Indian members: in 2018, a total of 29 Indian Institute of Technology graduates crossed the ocean to join our Tokyo office.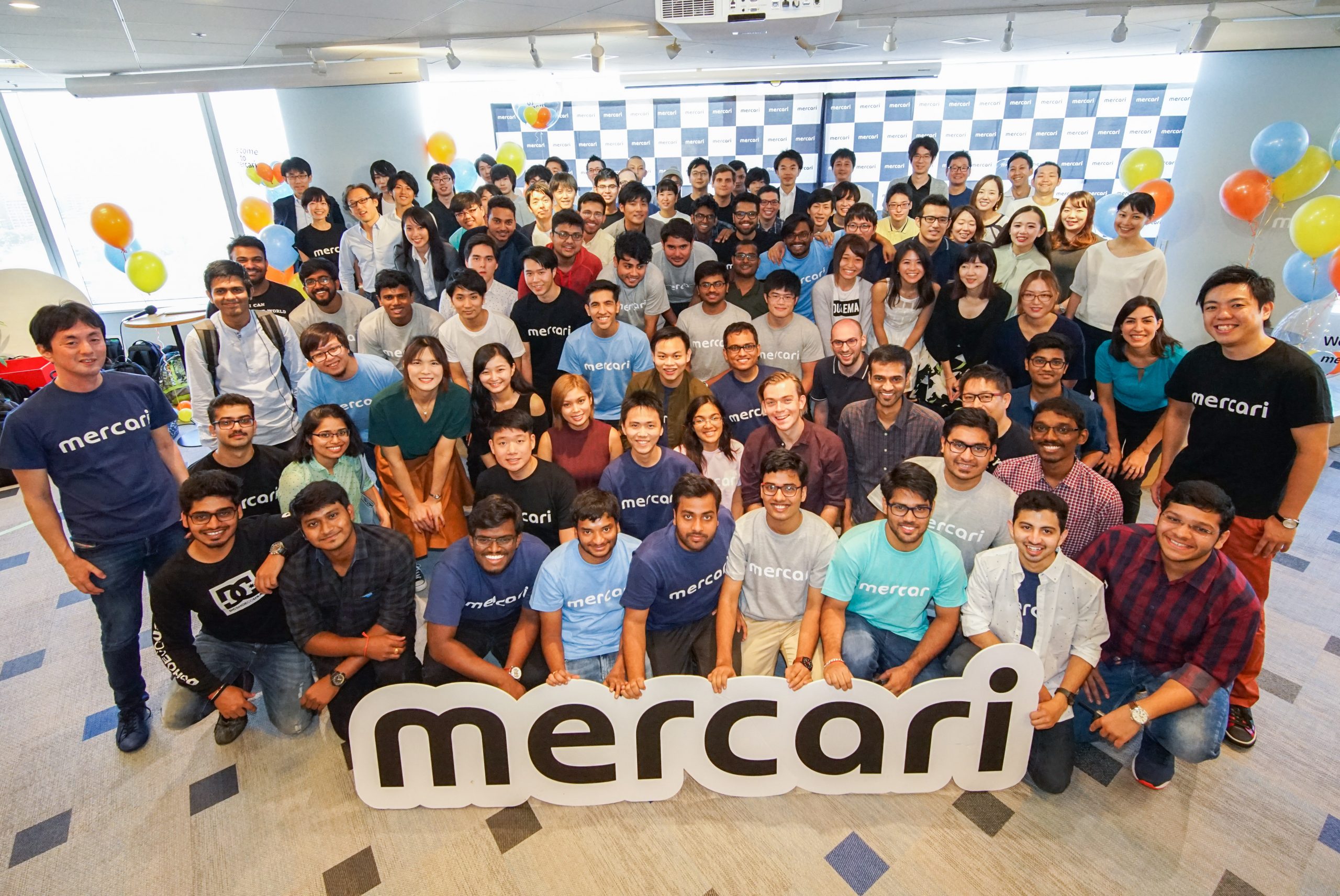 At Mercari, we have built a strong, globally diverse development organization to achieve innovation. Our Tokyo office members hail from about 40 countries and regions, and around half of our software engineers are from outside of Japan. Among them are a large number of engineers from India, and we have engineers in leadership positions as well. These members are actively involved in teams developing the latest technologies such as machine learning and AI.
In order to further strengthen our engineering capabilities, Mercari is developing new locations beyond Japan. As our company takes on this new challenge, now is an exciting time to join our team and start your next career journey!
About Mercari
Launched in 2013, Mercari is Japan's largest C2C marketplace with over 20 million monthly users. Through the Mercari app, users can sell their used or unwanted items to those who need them just by taking a photo and entering in some basic information.
We are constantly developing our app to provide an environment where anyone can conduct transactions easily, safely, and securely. As part of these efforts, we have invested in the latest technologies such as AI and machine learning, and have released various functions such as escrow payment, AI listing, and barcode listing. The app currently operates in Japan and the US, with 5.6 million monthly users in the US (as of 2022.3).
We have also successfully launched new businesses such as our mobile payment service Merpay. Today, Mercari Group is made up of multiple subsidiary businesses, including those involved in logistics, B2C e-commerce, blockchain, and sports team management.
The team at our new Bengaluru office will be responsible for product development at Mercari, Inc.
Message from Leadership
Our Culture
Mercari strives to create an environment where the organization and the people within it can grow together. The diverse members at Mercari share one common goal and demonstrate these values to work together to achieve our mission.
The Culture Doc is an internal document that summarizes the behaviors and mindset shared by Mercari and its members.
Jobs
Below are our open positions! If you're interested, please read through the job descriptions and apply.
Related Articles
LinkedIn
Get the latest information on LinkedIn.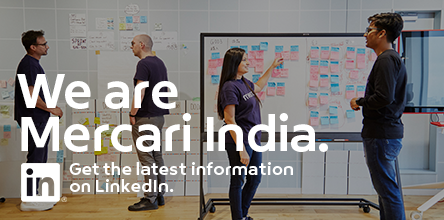 Workstyle
Flexible Hybrid Workstyle
We have chosen the Flexible Hybrid Workstyle, a way of working that gives employees the flexibility to blend both in-office and work-from-home (WFH) workstyles. This enables employees to be more adaptable in getting their work done irrespective of their schedules or locations. Your manager will work with you to determine the optimal frequency, work days, and work hours for working from the office and WFH. In order to build a strong and highly-engaged organization in India, we strongly encourage everyone to work from our Bangalore offices, especially during the initial setup phase. Recruitment will take place throughout India, but candidates will be encouraged to work in Bangalore. Mercari team will cover any necessary relocation expenses.
Flex Time
Mercari members work on a flextime schedule (no core time).
Support for Working From Home
Mercari India promotes a flexible hybrid working style and offers support to employees to set up their home office in order to improve their home working environment. The company also reimburses the cost of internet usage at home. To enhance employees' performance, we also provide the latest smartphones and tablets as needed.
Relocation Assistance
Mercari India provides one-time relocation assistance for employees who need to relocate after receiving new employment with us or due to a transfer within India (business need). All full-time employees who join Mercari India are eligible for this benefit, subject to confirmation by HR.
Benefits and Perks
Leave
Mercari India grants 18 days of earned leave and 6 days of sick leave per year. Other benefits provided include casual leave, company-paid holidays, bereavement leave, COVID leave, medical leave and wedding leave.
Meal Card
Sodexo Meal Pass is a fully digital meal card that helps employees save on taxes and enjoy unmatched freedom of choice on Sodexo's proprietary meal merchant network.
This optional benefit is available for you to opt into once every financial year
Once you are enrolled, you cannot cancel or withdraw from the program until the end of the financial year (e.g., for FY2023, 31 of March, 2023).
The benefit will be effective from Month Year
Learning
Mercari supports the diverse career development of its employees. Mercari will cover the cost of unique programs that cater to individual employees' professional development, such as seminars and conferences, and also funds the purchase of technical and business-related books.
Language
Mercari's Global Operations Team (GOT) can provide translation and interpretation support in Japanese and English to ensure smooth communication between members of various nationalities and cultures. (We also encourage Mercari India employees to tap the resources of the bilingual members on your team.)
Healthcare & Insurance
Mercari focuses on care and well-being. We believe that the health of our employees is of the utmost importance.
Insurance: Each employee and up to three dependents are covered under the company's medical insurance program. In addition, personal accident and life insurance coverage is also provided to our employees.
Reimbursements for annual health check-ups: Available for employees only. Health check-ups are an opportunity to identify and mitigate potential problems related to your daily nutrition, fitness, and lifestyle.
Annual dental check cost reimbursement: Available for employees only.
COVID vaccination reimbursement: Available for employees only.
Life Events
We offer 26 weeks of maternity leave and 4 weeks of paternity leave. Adoption, surrogacy, and miscarriage leave are also provided as benefits.
Employee Support Program
Mercari India employees are eligible for the support program Mercari Pro Pack.
This benefit is basically intended to implement the elements that individuals need to demonstrate their abilities as professionals. Some of the content of this benefit may differ depending on your work location. For details, check the internal employee information.