The Three Points of Your Choice
1. Freely choose your own working space.
Each employee can choose whether they want to work in the office, go fully remote, or some hybrid combination of the two.
Employees may work in hotels and other such establishments as long as security is ensured (remote work must be carried out in accordance with Mercari Security Guidelines).
2. Freely choose where you live.
Mercari employees can reside anywhere they want within Japan.
All public transportation is eligible for commute support by the company, including airplanes, bullet trains, express trains, express buses, and ferries (employees are entitled to a commuting allowance of up to 150,000 yen per month).
3. Freely choose your own working hours.
Employees can enjoy full flexibility in their working hours—24 hours a day, 7 days a week, 365 days a year (there is no "core time" or "flex time").
Employees may, for example, step away from their work in the middle of the day or even increase the number of hours worked per day and instead have 3 days off per week.
Note: No application or special permission is required for any part of the Your Choice policy—each member may set their own work schedule and freely choose where they live and work However, there are exceptions for certain positions and types of work (for more details, please see the
FAQ
).
Why Your Choice Works at Mercari
At Mercari, we have Values that serve as guidelines for action toward achieving our mission. In order for members to demonstrate these Values to the fullest, our organizations need a shared foundation. All decision-making at Mercari is based on these Values and our foundations, and Your Choice is a policy that strongly reflects these things.
For example, the "Be a Pro" value stipulates that each member, as a professional in their field, will take ownership and responsibility for their own work, and aim to contribute to our mission by committing themselves to results and performance. Since this idea that individual members are responsible for their own performance is firmly established at Mercari, we believe that each individual should be similarly allowed to decide their own working style.
Your Choice is fundamentally in line with our culture of "Trust & Openness." Mercari believes that each individual's thoughts and actions lead to both personal growth, and a stronger organization, so we strive not to make any rules that unnecessarily limit our employees.
Video
Your Choice by the Numbers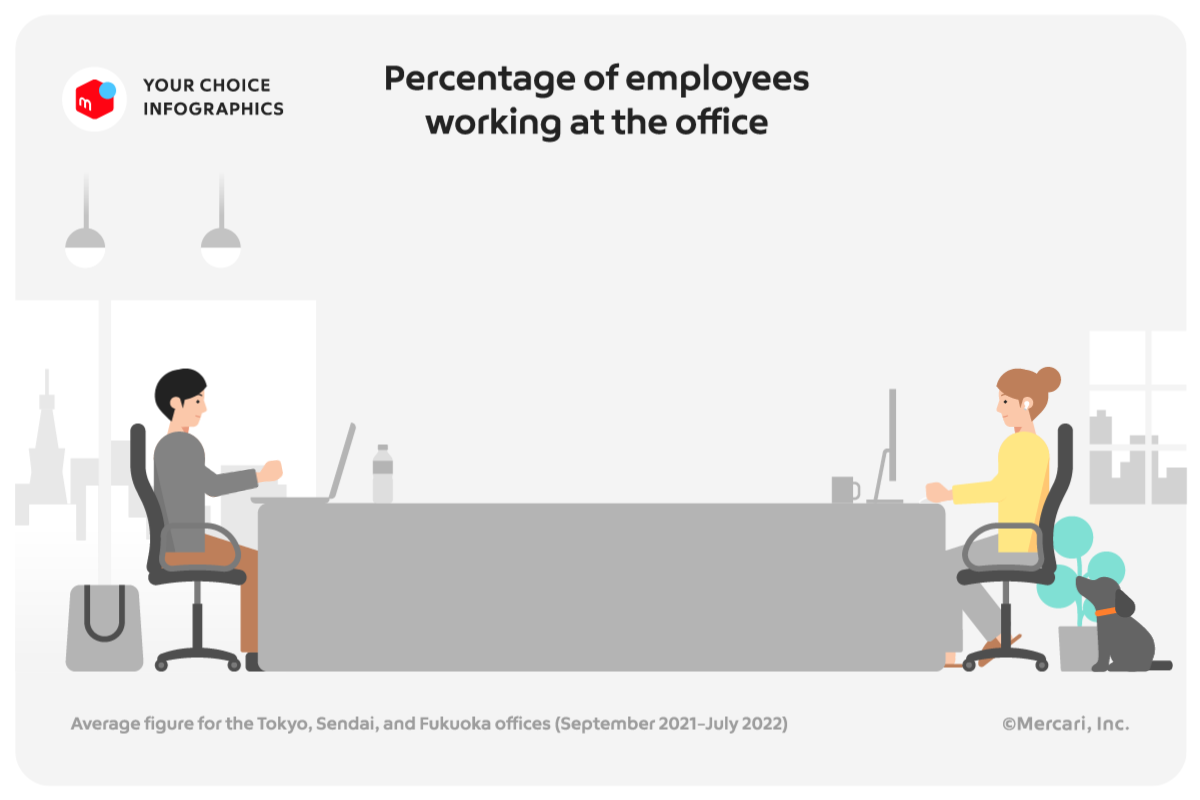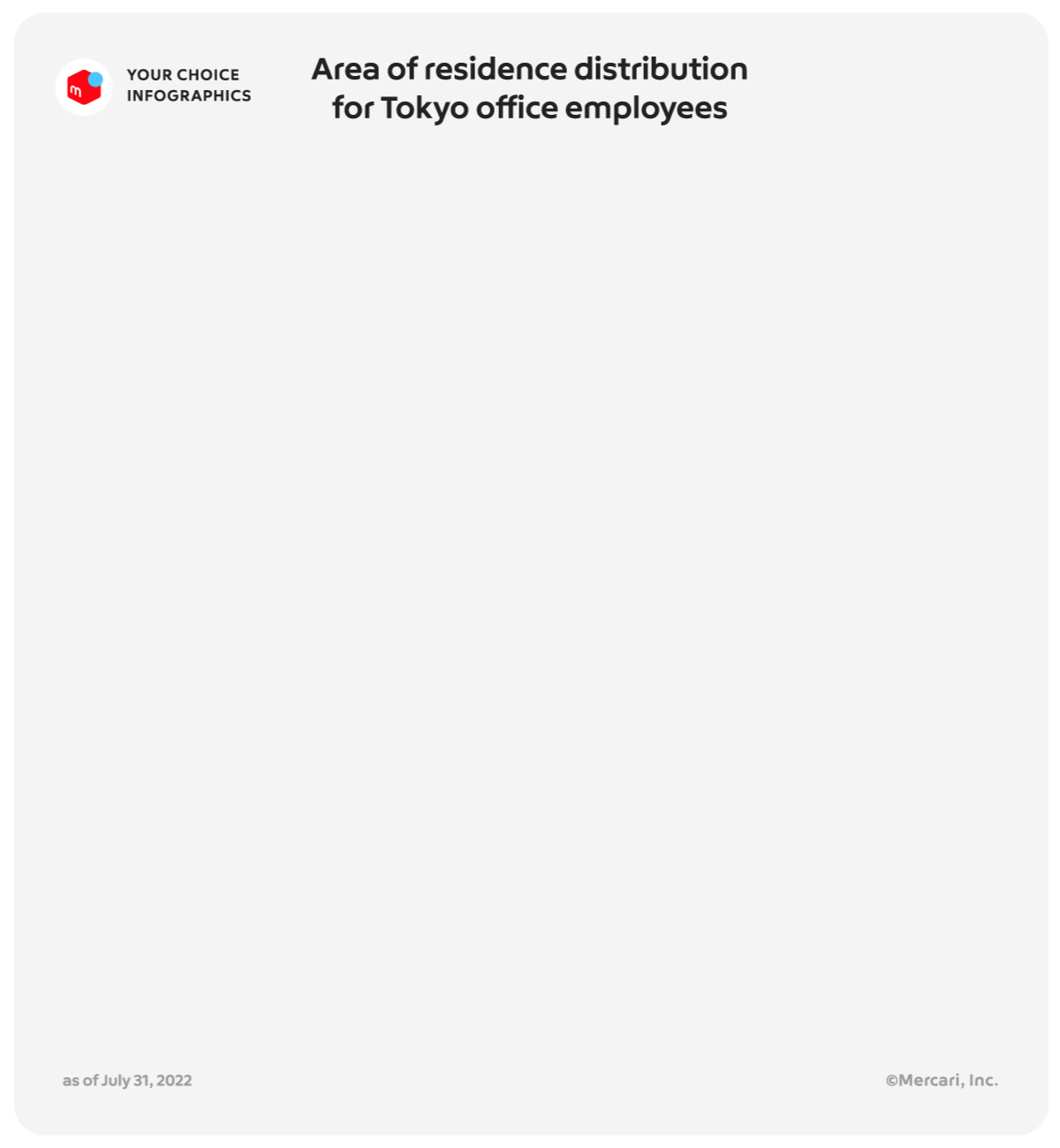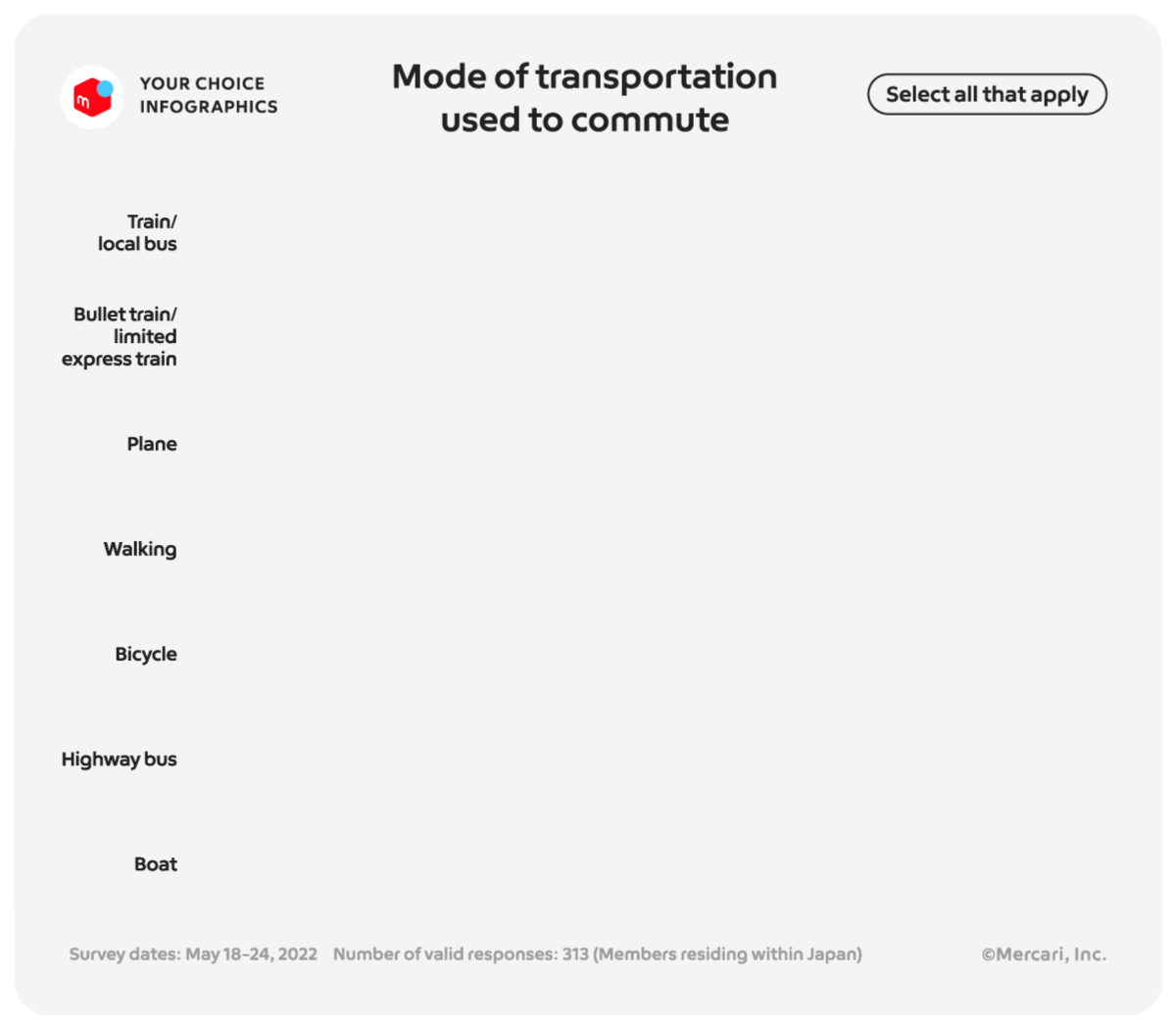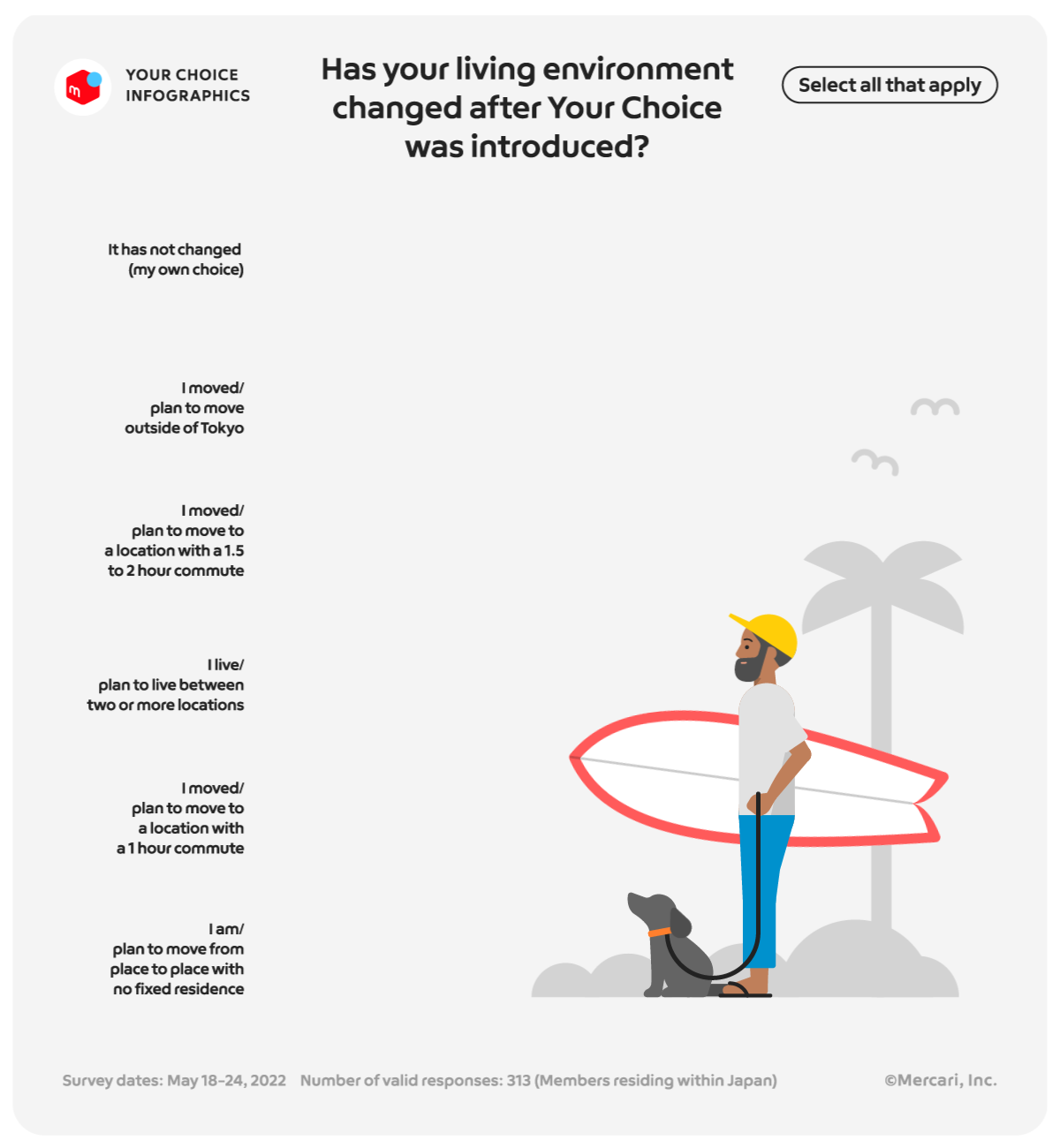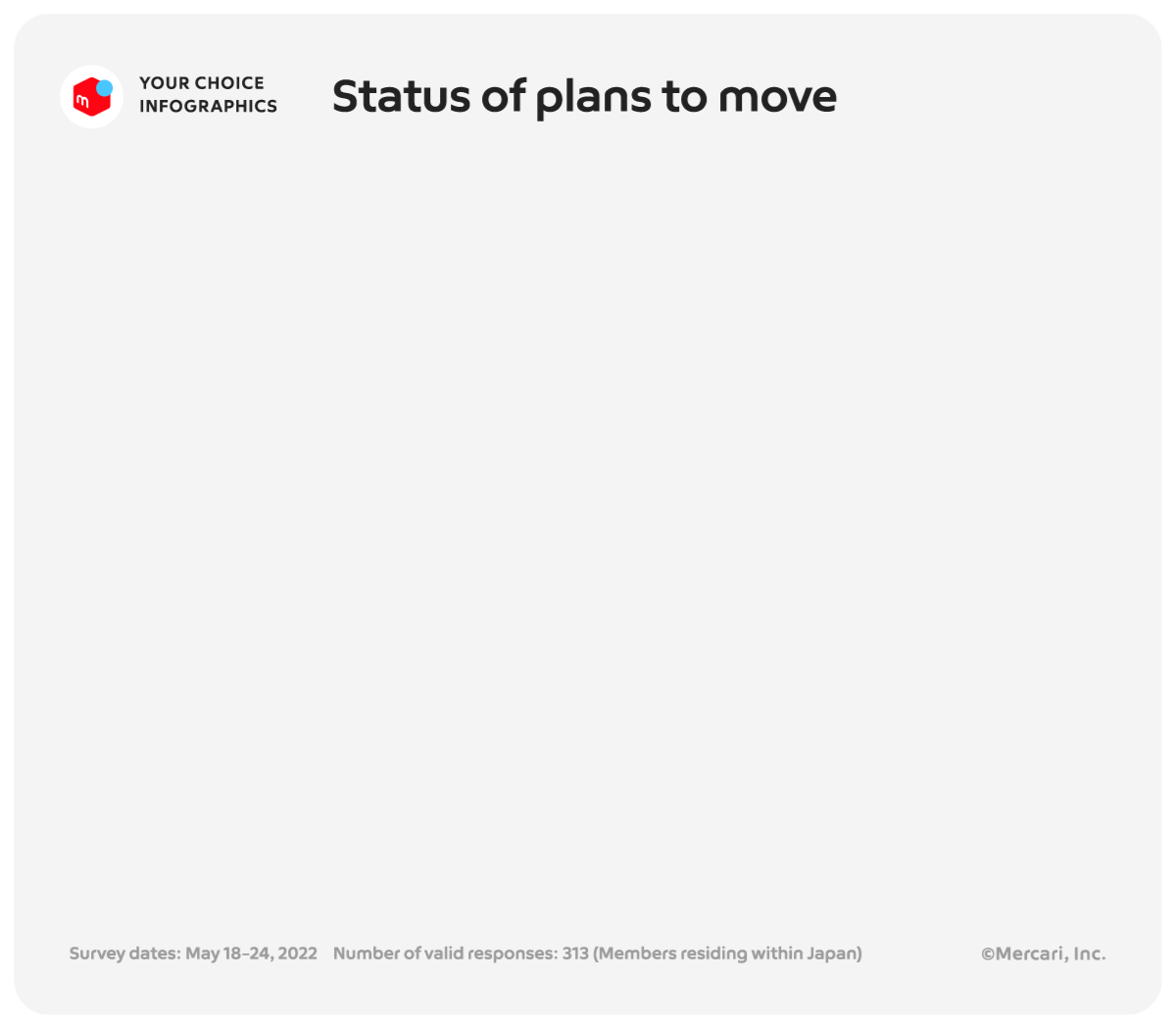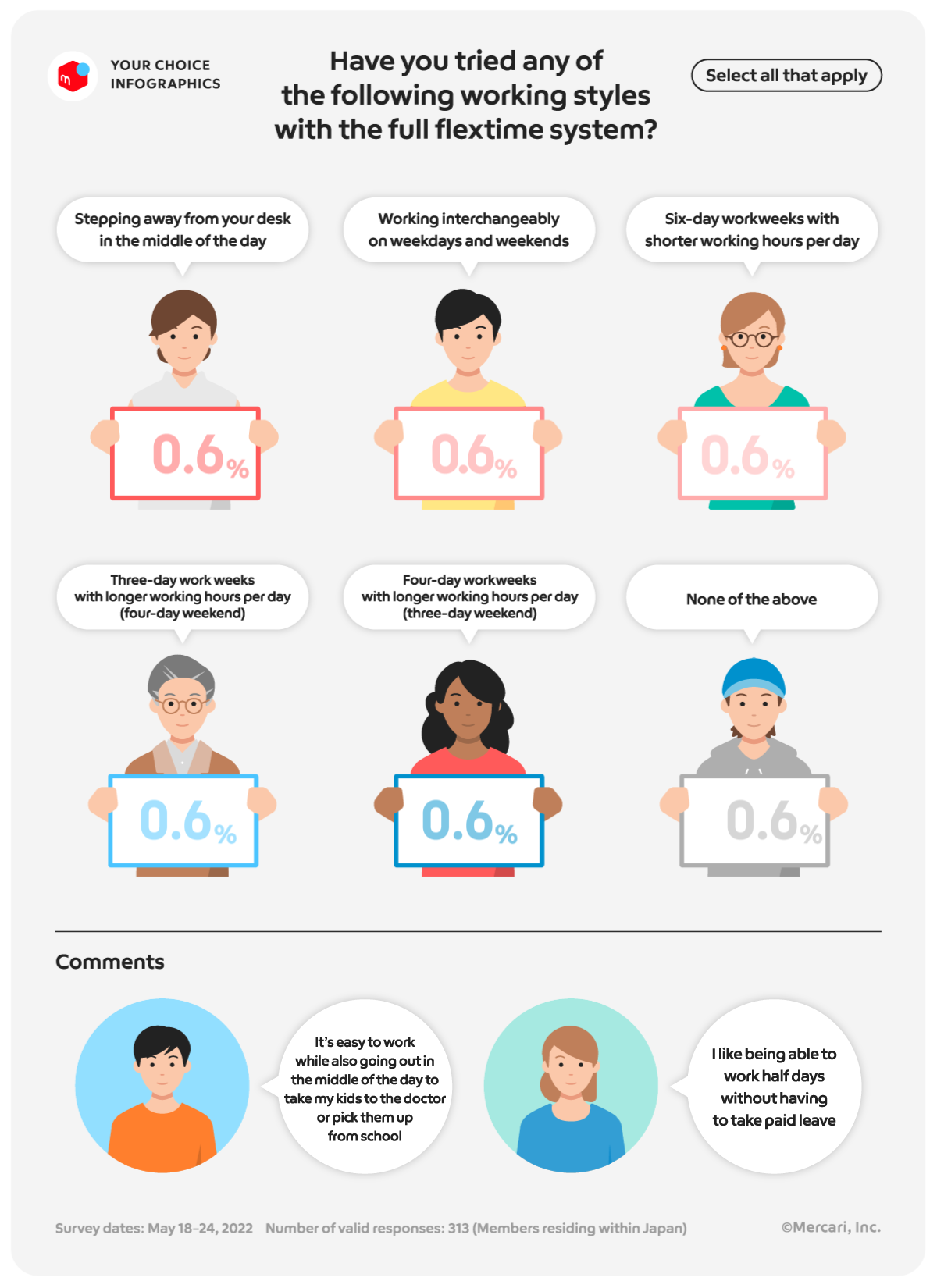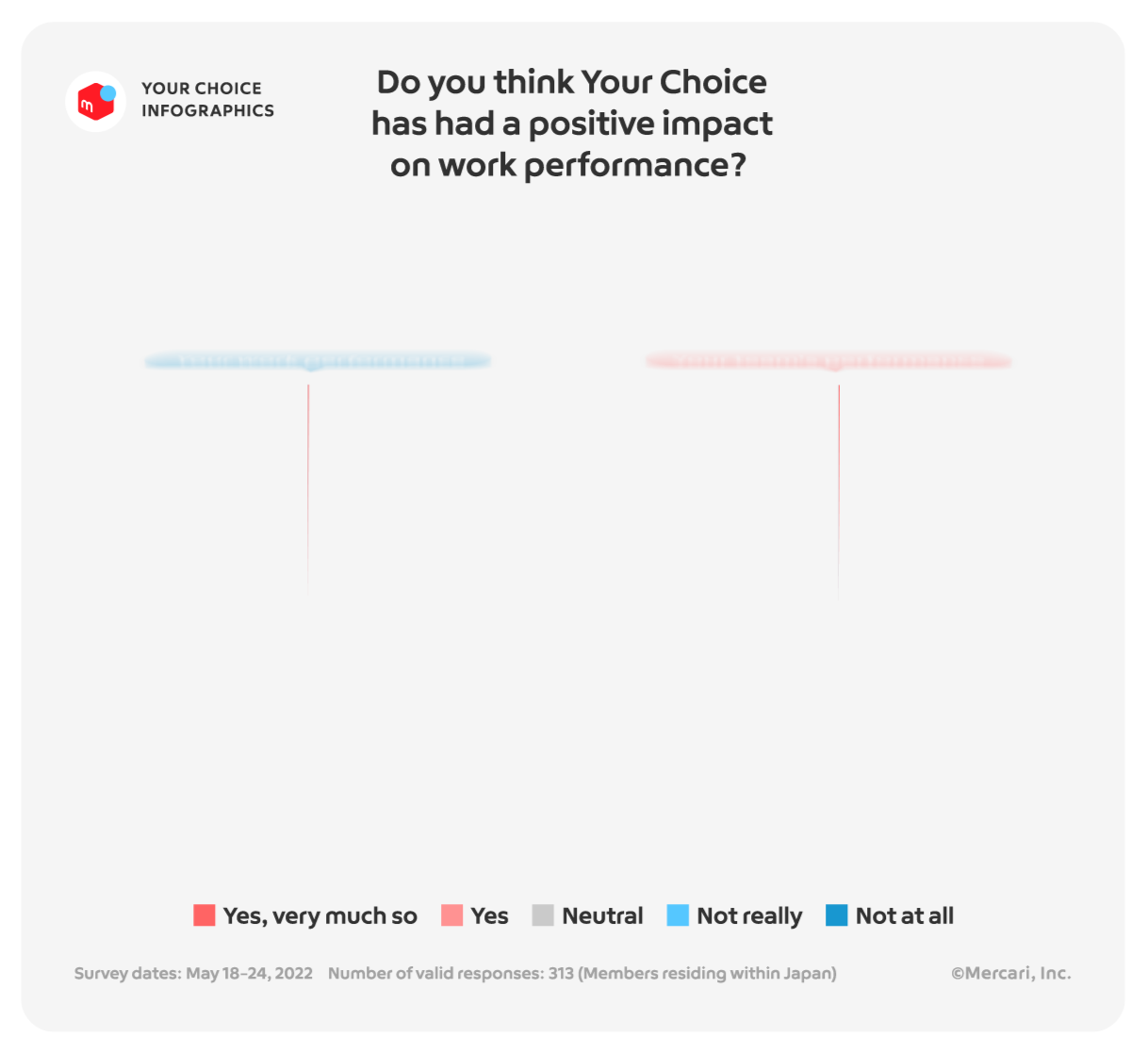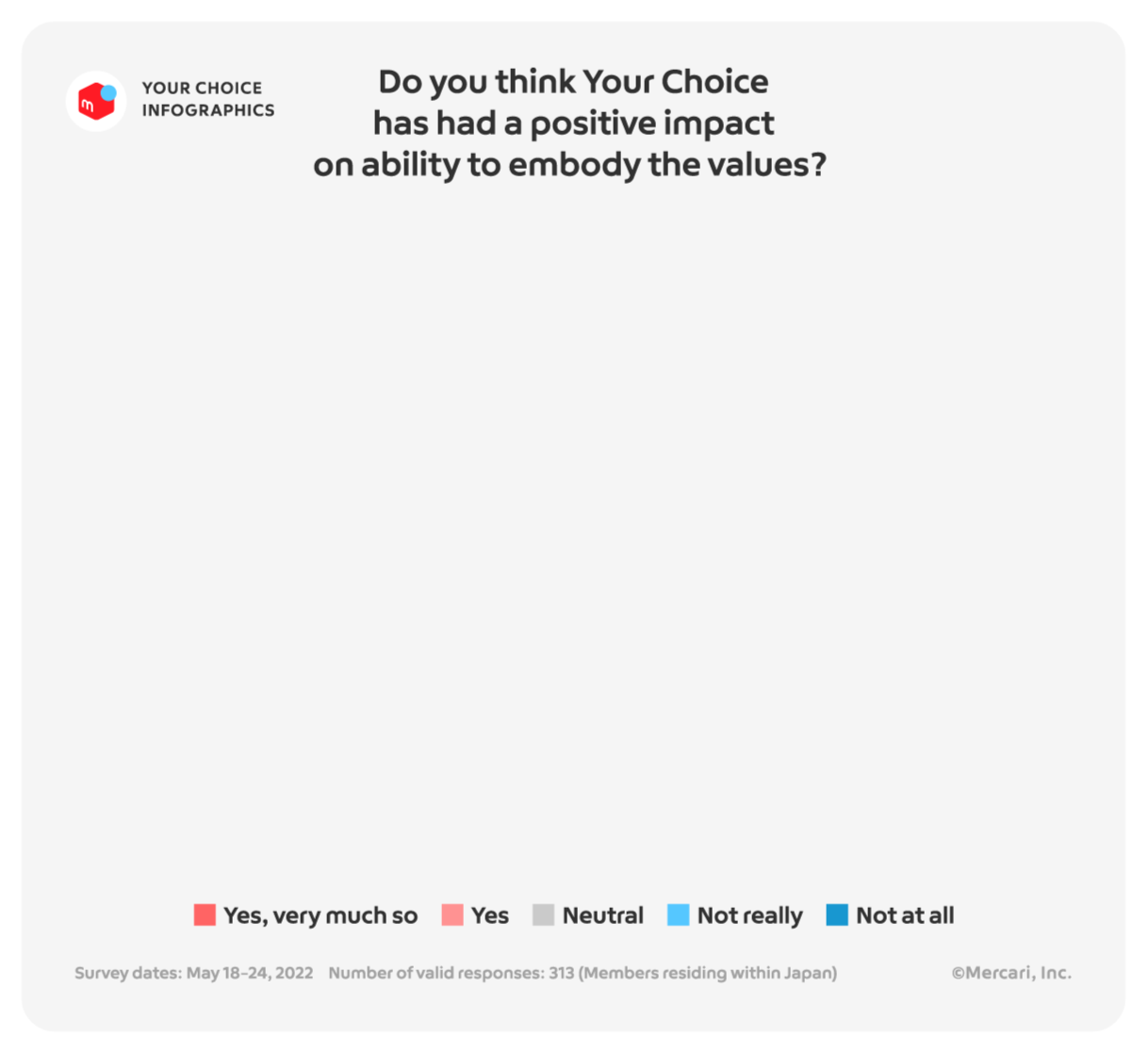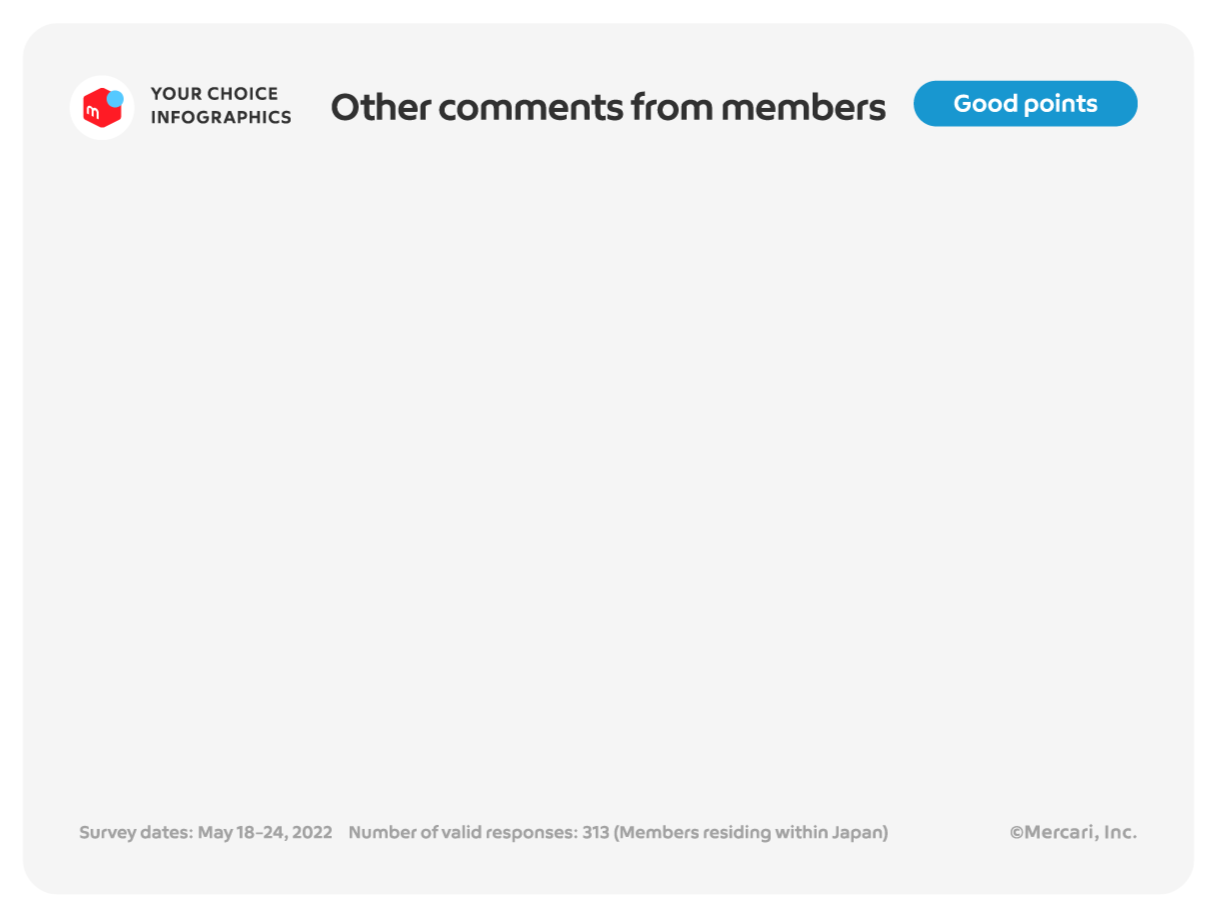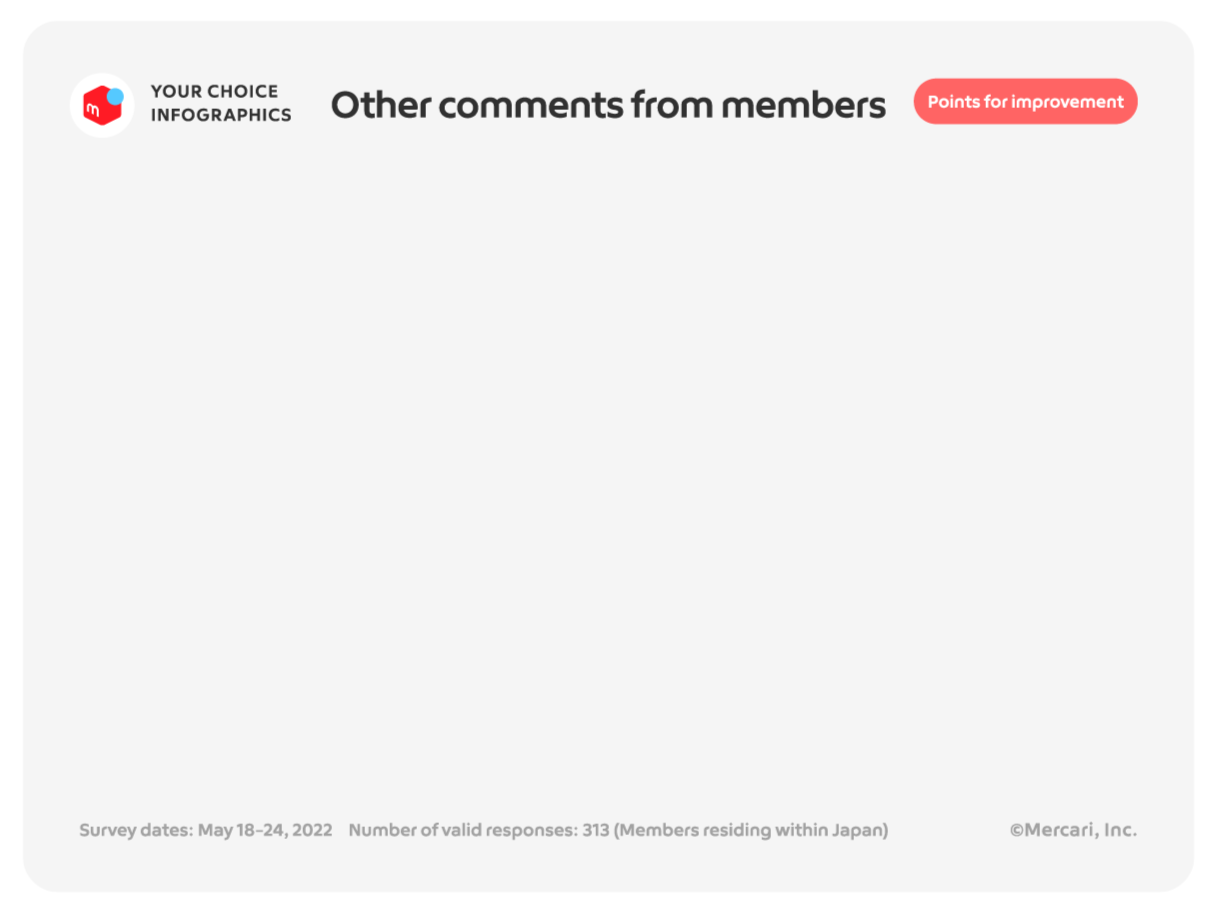 We are currently experiencing some technical difficulties with the Safari browser. When using Safari, animations on this site may not be displayed properly. Please click on the animations to open them as still images in a new window.
The Systems and Policies that Support Your Choice
At Mercari, we have a variety of systems and policies that enable our diverse members to optimize their own way of working, regardless of work style or background. Mercari will continue to implement and improve measures—both structural and non-structural—to support changes in work styles while also continuing to value the input and feedback of each and every member.
Culture Doc
We believe that it is important to clearly define and establish a culture as the foundation for smooth decision-making and communication among our diverse members. To that end, Mercari has developed a document for internal use that outlines the shared values of Mercari and its members.
Slack Communication
Mercari uses Slack as a tool for company-wide communication. As a general rule, interactions on Slack are conducted through open channels in order to maintain an open and friendly environment.
All hands (company-wide, regularly occurring meetings)/Open-door sessions (casual meetings for exchanging opinions)
Each company in Mercari Group holds an all hands (company-wide meeting) every week. Management and project owners send out messages, answer questions posted by members, provide visibility for policies, and explain the background of key decisions. Furthermore, Mercari promotes open and direct communication by frequently holding open-door sessions (casual meetings for exchanging opinions) where anyone can freely ask questions about new initiatives, current issues, and other such matters.
Team Building Expense Support
Mercari actively encourages team building activities, as providing more opportunities for close communication with members inside and outside of one's own team improves cooperation and relationships; the company allows employees to expense food and drinks associated with these activities to the company.
Onboarding Portal
As many new members are now being onboarded remotely, we have created a support system and implemented things like a To-Do List for new members, all of which can be found on an internal portal. In addition, the engineering organization is implementing a variety of onboarding measures in line with its mission of "providing the best employee experience for all engineers."
Work-Style Sync
In this sync, team members share their ideal working styles, including information like the time of day they feel the most productive and how often they prefer to come to the office, in order to help everyone understand each other better.
Mercari Base Tokyo
With the introduction of Your Choice, our offices have had to adapt to the evolving needs of our employee's diverse, new working styles. As such, in September 2022, we renovated Mercari's Tokyo office with the goal of creating a place where the entire organization could work more closely together to achieve our mission, whether online, offline, or anywhere in between.
This new office is called, "Mercari Base Tokyo." This is not just another office—it is a space that encourages communication and collaboration to create new value. And, as always, it's a place that embodies and cultivates Mercari's culture. We want to create a base of operations that will continue to help members produce results. This is what Mercari Base Tokyo is all about.
What do our members say about Your Choice?