Message
Statement
Gender identity, gender expression, sexual orientation, religion or creed, neurological characteristics, physical ability, ethnicity, nationality, race, and age are just a few of a countless number of diverse backgrounds that people working at Mercari have. Our goal is for everyone to have equal chances to do their best work, regardless of their background. We strive to create various policies and initiatives to make this a reality. We work towards promoting Diversity & Inclusion in true Mercari fashion, utilizing our unique combination of the experiences, knowledge, and views of our diverse members and our culture as a Japanese company.
Leaders' Voices
External Evaluation
Program
Mercari Restart Program
Mercari offers the Mercari Restart Program, a program that aims to support those who, due to personal reasons, had to interrupt their careers and want to return to the workforce.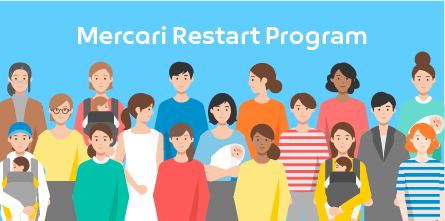 Communities
Women@Mercari
The Women community works to improve our working environment and to create opportunities for women to thrive. Our initiatives aim to provide fair opportunities for all individuals regardless of their gender, enabling them to perform at their full potential. We created Build@Mercari, which is an educational program for future engineers, and co-host events with Women Who Code, a community of female engineers.
Multicultural@Mercari
The Multicultural community creates opportunities for members to learn and support each other in order to improve our understanding of different cultural, national, or linguistic backgrounds. We carry out our activities respecting everyone's identity and individuality, and not categorizing anyone based on things like race, religion, language, family, or social group.
Pride@Mercari
The Pride community holds study groups and events to raise awareness regarding sexual diversity, the LGBT+ community, and its allies (people who understand and support sexual diversity). We hold seminars with internal and external speakers, work on ways to improve our HR policies, and more.
Materials
Mercari Pride E-Learning
Led by the internal community Pride@Mercari, Mercari Pride E-Learning is an in-house online training program designed to increase understanding toward LGBT+ individuals and promote D&I. The training has been mandatory for all employees since 2021.
Third-party institutions specializing in LGBT+ advocacy conducted a review of the training before this external release.
Unconscious Bias Workshop
Mercari has released materials for its in-house training program "Unconscious Bias Workshop" for free, with the goal of promoting diversity and inclusion in society by sharing knowledge and methods for understanding unconscious bias. A script for facilitating the Unconscious Bias Workshop using these slides can be found in the Facilitator Guide below.
Support
We provide training and support programs so that everyone working at Mercari is able to perform at their best.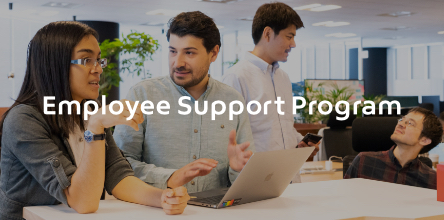 People