Our diverse members share one common goal,
working together to achieve our mission.
About Culture Doc
The Culture Doc is an internal document that summarizes the behaviors and mindset shared by Mercari and its members. In order to achieve Mercari Group's mission, we need the kind of workplace that can welcome a more diverse range of members and enable them to excel.
The more demand there is for diversity, the more important it becomes that our members share a common set of values, linking them and enabling each to perform to their utmost. Culture is an invisible, intangible asset to the company. We believe that having a strong culture will increase Mercari's ability to compete in a way unique to our company, foster our products' growth into services essential to both users and society at large, and help us achieve the company mission.
Shin's Message
I sold the mobile game company I ran before founding Mercari to a major US social game company in 2010, setting off on a trip around the world in 2012. There was one particularly memorable event that happened during my transit from Bolivia to Chile. Boarding the tour car, I noticed a boy of maybe elementary school age sitting in the passenger seat. I asked him what he was doing, and he said that he'd been helping his father—the driver—for days on end. There are many people who have difficulty traveling abroad or receiving sufficient education, no matter how hard they work, simply because of the country they were born in. These were my thoughts seeing this boy, who had to prioritize earning money, however little that may have been, over an education. But with the limitations of natural resources, it's not easy to help everyone in the world enjoy the same standard of living as people in developed countries. I returned to Japan later in 2012, wondering what I could do about it.
Little did I know there would be something even more surprising in store—the advent of the smartphone. Before I'd left Japan, everyone was still using email and infrared data sharing on Japanese-style flip phones, but by the time I'd returned, communication on LINE had become the norm. If we could connect people with smartphone technology and enable them to easily buy and sell belongings online, we might be able to more efficiently utilize this world's limited resources. And in doing so, we might allow people to live in greater prosperity. This is how the Mercari marketplace app came into being, in 2013.
Since its founding, Mercari has worked to grow its service while investing in both our people and technology. In order for Mercari to become a service used by people worldwide, however, there's a mountain of work ahead of us. But it's not impossible. Many companies have done the same before us, taking on the world stage and growing into a global company. This endeavor naturally entails countless difficulties and many failures. However, I believe that each of these difficulties and failures makes us stronger and helps the company grow.
I hope to continue building Mercari together with you, never forgetting what I learned on that trip around the world. Let's meet failures head-on, in bold pursuit of our mission.
   Shin
Group Mission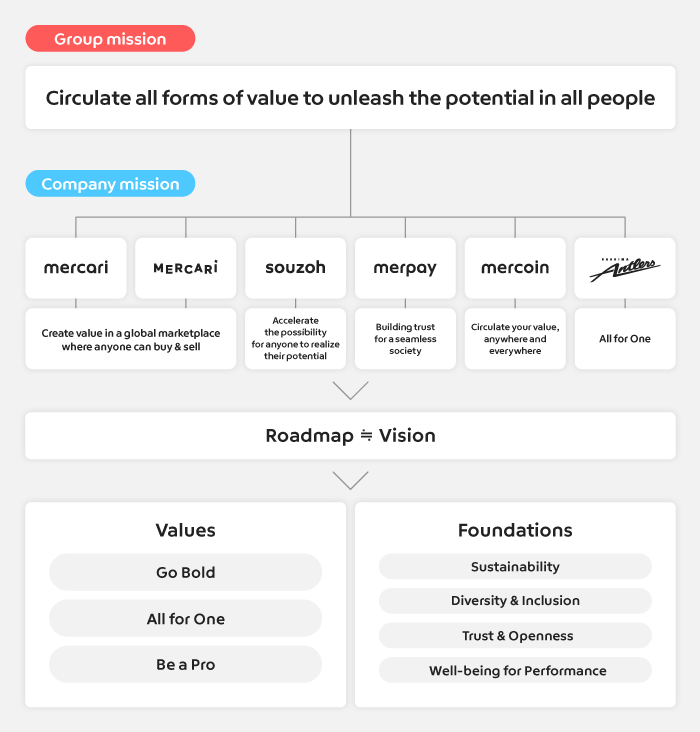 Mercari Group
"Circulate all forms of value to unleash the potential in all people "
"What can I do to help society thrive with the finite resources we have?" The Mercari marketplace app was born in 2013 out of this thought by our founder Shintaro Yamada as he traveled the world. We believe that by circulating all forms of value, not just physical things and money, we can create opportunities for anyone to realize their dreams and contribute to society and the people around them. Mercari aims to use technology to connect people all over the world and create a world where anyone can unleash their potential.
Company Mission
Mercari / Mercari US
"Create value in a global marketplace where anyone can buy & sell"
"Create value in a global marketplace where anyone can buy & sell." This mission comes from our desire to create a more prosperous society that reuses its resources and in which individuals can realize their dreams, by allowing anyone to enjoy the ease of buying and selling items on our marketplace. Through Mercari, for example, the old clothes still hanging in your closet or the unneeded belongings that you would normally throw out can instead be given to someone who needs them. It means that items which no longer hold any value for one person can be transformed into new value for someone else. We believe that by expanding this marketplace across borders, cultures, and languages to reach a global audience, we can create a circular economy where people take better care of the items they use.
Mercari has sought to expand overseas from the outset. This led us to enter the US market in 2014, the year after Mercari's founding. The US is home to people of diverse backgrounds, of many different races, nationalities, and religions. Laws and culture also differ from state to state. Growing our US service requires grappling with complex problems and issues. This is exactly why we think of the US as a microcosm for our future global expansion. It's an extremely important country for us, where we cannot afford to fail. While this makes it much more difficult than our Japan-side operations, our US business contributes greatly to achieving Mercari's mission, and we will continue to face the challenges of the US market going forward.
Merpay
"Building trust for a seamless society"
"Building trust for a seamless society." This has been Merpay's mission since the company's founding. It says that Merpay will create a "seamless society," where each individual's "trust"—built through use of the Mercari marketplace app and the Merpay mobile payment service—is visualized and becomes the basis for allowing users greater freedom in how they use their money. We believe this will not only allow everyone an unprecedented level of freedom and equality in how they use their money, enabling them to obtain the things they want, it will also create a society where people can realize their dreams. Merpay's goal isn't to create a more simple and convenient form of money. Rather, we believe our goal and our mission is to transform society, people's relationship with money, the way people work, and how people achieve their dreams.
Mercoin
"Circulate your value, anywhere and everywhere"
We believe that every one of us holds untapped potential and that everything has value regardless of its form. At Mercoin, we are creating products that help people unleash their potential, empowering them to create and circulate value. Beyond goods. Beyond money. We envision a world where anyone can easily exchange cryptoassets, digital assets, and any other forms of value, utilizing cutting-edge technologies to break the boundaries of what is possible.
Souzoh
"Accelerate the possibility for anyone to realize their potential"
Souzoh aims to enable anyone to achieve their dreams and expand their understanding of what's possible. We spearhead new businesses for Mercari Group to boldly challenge the unknown and create an inspired future.
Kashima Antlers
"All for One"
Kashima Antlers FC is a professional soccer club aiming to compete at a top level globally and be one of the most successful clubs in the world, based on its mission of "All for One." In terms of our competitive ability, we aim for victory in every championship we play in, whether in Japan or abroad. On the business front, we aim to provide new value to our fans and local communities through our partnerships with those communities and our business partner Mercari, Inc. The most important thing to us as a soccer club is having our team continue to earn titles. Each of us has a different station and role, but our work shares the same goal. We share our mission of "All for One" and always continue to evolve and challenge ourselves in its pursuit.
Values
Why do we need the Values?
We established Mercari's three Values a year after the company's founding, to act as guidelines for what we need to do to achieve our mission. All decisions made at Mercari are based on these three Values—from decisions about hiring criteria to employee evaluation and management decisions. By having our Values shared between individuals and organizations, we can accelerate decision-making and ensure everyone is aligned in the same direction.
There is a reason why we have left some room for interpretation and kept the wording simple: We want each of our members to interpret the Values for themselves, incorporating their opinion and assessment of the Values into their behavior. "What does 'Go Bold' mean to me?" "What does an 'All for One' team look like?" "What do I need to 'Be a Pro'?" We believe that by having each member not only carry these questions with them and internalize their meaning, but actively share them with other members and discuss their meaning together, Mercari can become a stronger organization and accelerate its business growth.
Go Bold
In order to create innovation with a big impact on the world, all Mercari members break away from precedent to take on bold challenges. It's vital that our members continually take on new challenges, learning from constant trial and error. They lead those around them to achieve the company mission, while never losing sight of their own vision or their organization's vision.
All for One
Achieving great success requires not only that team members combine their talents, but that all members identify what needs to be done and commit to seeing decisions through to the end. All members aim to achieve Mercari's mission by thinking through what we need and what needs to be done, to achieve their best performance without getting hung up on the means by which they achieve it or the scope of their role.
Be a Pro
Each Mercari member acts as a professional, with a high level of expertise. They exhibit a willingness to always be learning, which has a positive impact not only on themselves, but on their team as a whole. Members need to have both the advanced skills and positive mindset necessary to continuously improve themselves, as well as the willingness to translate those into action. Members aim to achieve Mercari's mission by expressing ownership and a sense of responsibility towards their work and their role, committing themselves to producing results.
Foundations
Why do we need the Foundations?
Mercari has three Values that serve as guidelines for action towards achieving its mission. In order for members to demonstrate these Values to the fullest, our organizations need a shared foundation. Foundations come from not just one specific individual consciously demonstrating the values, but from the organization as a whole embodying them and creating an atmosphere where the Values are respected and observed. We believe a shared understanding among the organization allows for smoother communication and decision-making among its members. We believe that internalizing key approaches and mindsets—Sustainability, Diversity & Inclusion, Trust & Openness, and Well-being for Performance—will give rise to a shared company culture among individual members, make Mercari a stronger organization, and accelerate its business growth.
Sustainability
The earth's resources are essential to our daily lives and form a vital foundation not only for individual people, but also for companies like Mercari to continue business. However, those resources are limited. As such, Mercari believes that the creation of a circular economy is a necessary achievement if we are to continue doing what we do. We all have items we don't need anymore, but they can still be used by someone else who does. Mercari has worked to create a marketplace that helps individuals make those connections safely and easily. This concept is also important when planning our businesses; we consider our impact on the earth and take approaches that will allow us to continue our business operations with as little negative impact as possible. For example, are sellers using the appropriate amount of packaging? How much environmental impact does it take for an item to be shipped to a buyer? In this way, Mercari aims to be a "planet-positive" company that contributes to solving environmental issues while also growing its business.
Diversity & Inclusion
We believe that in order to develop and provide a service that is accessible and accepted the world over, we need to be just as diverse as our users. The more diverse our users are, the more diverse their needs and insight into the product will be. For us to recognize those needs, we must understand not only the obvious differences, but the tacit differences as well. We must also continue to challenge discrimination and unequal opportunities people face simply because of their characteristics or backgrounds. We want to build an organization where people aren't judged by their characteristics or backgrounds, but have their personality and humanity welcomed and respected by all. In order to realize that goal, we must foster an inclusive mindset and create an environment that can support diverse values and ways of thinking. We work towards promoting Diversity & Inclusion in true Mercari fashion, recognizing the wide range of values held by our members to bring together diverse experiences, knowledge, and opinions.
Trust & Openness
Mutual trust is very important for Mercari. Based on the premise of trust, information is kept transparent, and the organization is built flat. Even as the organization continues to expand, and we continue to introduce scalable mechanisms to promote diversity, we work to keep internal rules to a minimum. We also focus on making sure all members are as committed as possible to the decision-making process. This is because we believe that allowing members to take the initiative in deciding their approach and actions helps create personal growth, a stronger organization, and greater agreement with decision-making. The Mercari service itself is supported by our users, business partners, merchants, and many other stakeholders; mutual trust forms the foundation on which our service stands. Mercari values trust and openness in growing both our organization and our business.
Well-being for Performance
At Mercari, our idea of well-being is every individual taking ownership of their health (both mental and physical) in order to boost their potential and give their best performance at all times. Take athletes, for example, who compete on the global stage just like us. As they aim to become the world's best, they take responsibility for their own well-being, constantly thinking about what they can do to break through their limits and perform to their greatest potential both as an individual and as part of a team. Like these athletes, we at Mercari need to take charge of our own mental and physical condition and keep demonstrating our best performance and values in order to achieve our mission. Mercari will continue to fully support its members' well-being so that they can take care of themselves and continue to aim for the stars.
Guidelines for people and organizations
Introduction
Mercari has established a set of guidelines regarding our approach to people and organizations based on our mission, values, and foundations. To ensure that each and every member can demonstrate our values and give their best performance at all times, we set forth the ideal Mercari experience for employees based on six aspects: hiring, onboarding, evaluation and compensation, talent development, workstyle and benefits, and resignation. We strive to reach these ideals by employing a variety of strategies.
Hiring
Objective

Welcome diverse members that fit Mercari's culture in order to achieve our mission

Policy

Everyone that works at Mercari becomes an ambassador for Mercari's culture so that we can all work to hire the best talent (encouraging referral hiring)
Ensure that our candidate pool and hiring processes are built with diversity in mind
Assume candidates are users of Mercari/Merpay, and improve the candidate experience throughout the selection process to make them like Mercari even more, regardless of whether they get hired or not
Proactively and sincerely communicate Mercari's current situation to candidates in order to clarify expectations from both sides and ensure we meet each other's needs
Treat recruiting and training new graduates as a key part of our culture, since they will represent the core of Mercari's workforce in the mid-to-long term

Respect new graduates as professionals; don't treat them any differently from other members (except when it comes to providing necessary onboarding)
Determine offer amounts for new graduates using absolute evaluation based on their skills and experience (rather than a uniform starting salary for all new graduates)
Onboarding
Objective

Ensure that within three months of joining, new members can explain Mercari's culture in their own words and demonstrate Mercari's values and their performance to the fullest

Policy

Ensure that new members themselves have ownership over their onboarding
Provide new members with a support system comprising their mentor and manager and with a clear onboarding journey, but also (even in the onboarding period) expect them to take action to bring themselves up to speed and start working independently
Ensure that managers, mentors, and everyone that works with new members works together to support them
Ensure that new members' and Mercari's goals align to create an environment where they are excited to take on new challenges
Promote a variety of All for One strategies while adhering to the above policies

Proactively hold mentor lunches, shuffle lunches, team building, etc. so that everyone who works with new members works together to support them
Hold one-on-one meetings between members regardless of position/standing in the organization to expand new members' networks and help them start working independently
Ensure that new members understand the current state, future direction, and culture of the company through meetings like All Hands and open-door sessions
Evaluation and Compensation
Objective

Maintain/enhance the health of the organization and ensure evaluation and compensation that is rewarding, satisfactory, and fair for all of our diverse workforce through clear criteria and processes that look at each individual's performance (value-embodying behavior and output) from all angles

Policy

Strengthen our values

Indicate the roles and behavior (demonstration of values) we expect in grade definitions and use the same criteria across the group
Reward those who demonstrate Mercari's values, not just output, in order to maximize results for the organization in the mid/long term
Reward those who take on new and difficult challenges within their areas of expertise to ensure that Mercari remains a bold organization

Support diverse talent and a changing organization

Use mechanisms to remove ambiguity and high-context reasoning and to avoid evaluation based on inappropriate bias
Ensure mechanisms are flexible to allow for maximum growth in all companies/divisions while maintaining a sense of unity throughout the group
Create processes that encourage growth of the individual and the organization through evaluation as well as mechanisms that connect those with other strategies

Reward performance with competitive levels of compensation

Offer competitive compensation for performance based on the market value for that position
Provide the most optimal forms of compensation for both expected contribution and demonstrated performance
Boldly reward top performers and key talent
Talent Development
Objective

Maximize individual growth to create disruptive growth for Mercari Group

Policy

Individuals actively pursue opportunities for growth, and their company/manager actively provides growth opportunities that match both the individual's career goals and the group's future direction (Win Win Max)

All Mercari employees are pros and take ownership of their own growth and careers
Individuals can choose whether to take their career down a management path or a specialist path. Management roles are just that—roles. Managers are not inherently "above" specialists; they are on equal footing.

In order to maximize growth, aim for synergy in the mid/long term by combining three approaches: on-the-job experience, feedback, and off-the-job learning (aim for Growth Max with a ratio of 70:20:10 between the three)

On-the-job experience: Work assignment decisions are not simply made and handed down by managers. Individuals actively share what they want to do, and decisions are made to maximize the performance of the team. Decisions are also made with the goal of achieving disruptive growth for both the individual and Mercari Group, rather than focusing merely on short-term results. By providing opportunities for team transfers and bold selections for positions, managers support individuals in building their careers and create an environment where all members feel like they are growing.
Feedback: To maximize the impact of assignments, individuals actively receive feedback from their peers and other relevant members outside of their report line. They also actively give feedback in the same way. Feedback is treated like a gift; members giving feedback sincerely communicate both praise and advice to help the members receiving feedback identify their next actions. Managers recommend bold challenges for their team members and evaluate them appropriately on their output and value-embodying behavior.
Off-the-job learning: Individuals take ownership of off-the-job learning for their assignments/any career growth opportunities they are interested in; they make and continuously follow learning plans. Everyone can utilize the learning opportunities that are right for them, including internal/external training courses, e-learning courses, reference books, conference participation/attendance, and the 20% rule. Knowledge gained from this learning is used to help with assignments, receive feedback from peers, and improve performance/achieve personal growth.

(To achieve the above) Managers also actively consider/propose assignments themselves and aim for personal growth through continuous learning
Working Style and Benefits
Objective

Continue to provide a work environment where our diverse members can thrive, maximizing the performance of both the organization and the workforce

Policy

Work style

Each person will continue to pursue the work style that allows them to best demonstrate their performance and value at an individual and organization level

Work locations

Mercari's offices encourage the kind of communication that helps each individual member to embody the company's values and that enables teams to come together as one to accomplish their mission
In order for the largest number of our diverse members to demonstrate their maximum performance, we will not limit the definition of workspace to just the office; instead we will design our vision of the workplace as one that allows our members to flexibly select from various options.

Benefits

Providing support to our members during hard times will reduce their uncertainty and improve retention, as well as help drive a work environment where everyone can work their hardest

Defining "hard times"

Negative circumstances that we all face at some point in our lives
Situations in which, regardless of individual efforts, the psychological or economic load that a person must overcome is substantial while any potential solutions are limited, eventually affecting the work performance of the individual

We do not provide extra support for positive times (benefits that individuals can choose how they use, like rent subsidies), and instead reward members with increased compensation
Resignation
Objective

To give our blessing to colleagues who decide to resign and use their growth and experience at Mercari to fuel new challenges, to retain former employees as fans of Mercari, and to proactively rehire employees who leave

Policy

The relationship between a company and its members is a contract between professionals established when the two parties match. If they should no longer match, due to various factors such as changes in the phase or direction of the company, and this cannot be rectified after exhausting possible solutions, such as improved support or transfers, it may be necessary to dissolve the relationship. This can however be viewed as a positive outcome, so when one of our members decides to resign, we send them off with our gratitude and respect.
We don't want people to resign when it could have been avoided. However, we will never force a member to stay with the company. That's not to say we want a low turnover rate; a certain level of turnover is healthy for an organization that encourages reinvention.
This is us aiming to be liked by our former employees, even after they resign. It should please us to know that Mercari's alumni are active in various places. We also welcome them back.
Each of us helps to create Mercari
by nurturing the growth of this culture.
Culture Doc.